Historien om golfeleganten Frank Dyer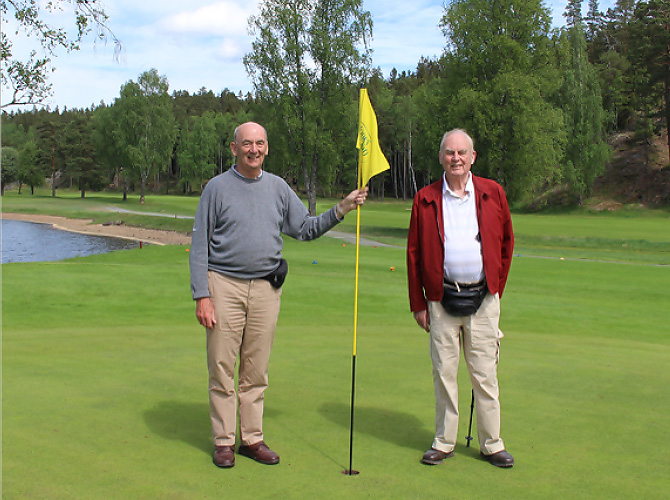 Philip och Adrian Dyer på Parkbanan, Hooks Golfklubb, under sitt besök i somras. De står på 11:e green, ett av Frank Dyers ursprungliga hål från 1934.
Under större delen av 1930-talet hade Göteborgs Golf Klubb en engelsk pro, Frank Dyer, som satte flera avtryck i den svenska golfhistorien. Han gav lektioner till golfspelande göteborgare, segrade i flera av dåtidens främsta proffstävlingar i Skandinavien och anlitades som bankonstruktör. Frank Dyer lade ut de fyra första hålen vid Hooks Herrgård och de första nio på Jönköpings bana i Kettilstorp.
I somras kom Frank Dyers två söner, Adrian och Philip, till Sverige på en nostalgiresa i pappans anda. De hade med sig fyra "Frank Dyer" klubbor som de donerade till Svenska Golfmuseet i Landskrona och de besökte såväl Göteborgs Golf Klubb i Hovås som de båda klubbarna och banorna i Hook och Jönköping.
Dessutom skrev Adrian Dyer en kort biografi över Frank Dyers liv som golfspelare som vi är glada att kunna presentera här: "The Golf Career of Frank Dyer".
The Golf Career of Frank Dyer
by Adrian Dyer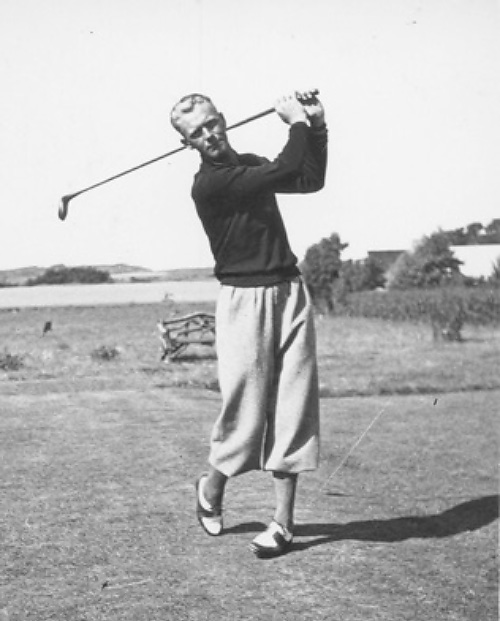 Frank Dyer, born 5th April 1908, died 15th April 1983. Frank Dyer's first memory of golf is of hitting a golf ball with a cut-down club in 1913 at the age of five at Harrow Golf Club, on the west edge of London, where his father was club steward. He began playing regularly aged seven at Dulwich and Sydenham Golf Club where again his father was club steward, initially with the caddies in a field behind the caddie shed and later with members. On one occasion he drove the green at the 256 yard first hole. After his father left the club in 1918, the family remained in the area and Frank still played on the course, 'unofficially' and early in the morning and late in the evening. At school (Alleyn's School) he met Henry Cotton and his older brother Leslie, and for a while all three were members at the Aquarius Golf Club. In 1921 and 1922, Frank played in the first two years of the British Boy's (i.e. under 16) Championship, played at the Royal Ascot Golf Club, Berkshire.
Frank left school in 1924, aged sixteen, with no qualifications and no money for golf, but after eventually getting a job in the offices of a coal importer in London, he started playing golf again at Mitcham and Richmond Park public courses. His golf improved further, he didn't want to work in an office, and when his father suggested he should think about taking up golf professionally, he agreed. However, unlike the Cotton brothers, who had been apprenticed to professionals straight from school, Frank was now nineteen with no club-making skills and he was unsuccessful in applying for assistant's jobs.
Eventually, in July 1927, he was taken on by the Spalding factory at Putney at a nominal wage, where he checked hickory shafts and persimmon heads for flaws and picked up club-making skills from the experts. Spalding's also provided him with free golf balls and the use of some better clubs; factory-made mass-produced clubs had such thick hickory shafts that they had no balance and the lead weights in the back were in such shallow grooves (to save time for workers on piece-work) that the lead had to be repeatedly tapped back into place. Spalding club makers ran a weekly competition at Richmond Park and Frank was often the winner. One of the Spalding travelling reps introduced Frank to Arthur Lacey, professional at the newly opened Selsdon Park Golf Club and later a Ryder Cup player, who took him on as an assistant in May 1928, at the age of twenty, on half pay (27s 6d per week). At Selsdon Park he had his first sub-70 round, a 68. Then another travelling rep put him in touch with J N Mackenzie, professional at Royal Antwerp Golf Club, Kapellenbos (Cappellenbosch), near Antwerp, Belgium, who offered him the post as his assistant.
Frank started as assistant at Royal Antwerp in July 1929, aged 21, and worked there for three and a half years. His best score on the Old Course was 66, that on the New Course was 67. He played in international matches between Belgium and Holland. He also played in golf competitions in Belgium and Holland (he couldn't afford to travel further) and these included the 36-hole Dutch Open (then known as the Holland Professional Open Championship) in 1931, which he won with a 68 and 77, and took the first prize of the Challenge Cup and about £40, equivalent to about £1400 today. Photos indicate that Frank was using steel shafts at that tournament; steel shafts had only been legalised for tournament golf in 1929, and the first major tournament won with steel shafts was the US Open in 1931. Frank also won the Belgian Professional (Close) Championship at Waterloo in 1931, with a score of 151, and the Belgian Alliance Championship in 1931 by 10 strokes with 144, including a tournament record 68. These successes were quoted in the advertisements for the "Super Harlequin" rubber-cored golf ball with its "tempered cover" and its square dimples, which he used. At Royal Antwerp Golf Club, Frank was paid about £4 per week plus part of his lesson fees.
He practised a lot and experimented with his Vardon grip, influenced by published photographs of the swings of famous golfers of the time. These appeared to show the hands in front of the ball at impact, with a very "strong" left hand grip and closed face to compensate. The successes of 1931 were then followed by a less successful year in 1932, including runner-up in the Belgian Close and Belgian Alliance Championships, while he persevered with this method. He eventually decided that the photographs were misleading because of the way the shutter worked and discovered that, contrary to all the golf instruction books that stated you should take the club first in the left hand, "if you put the right hand on the club first and then slip the left hand under it, you get a proper grip with the backs of the hands respectively facing the hole and facing away from it as they should be".
From late 1931 Frank was beginning to look for an appointment as professional and in 1933 he was appointed at Göteborgs Golf Klubb (GGK, Gothenburg GC), Hovås. He moved to Hovås on March 3, 1933. He arrived a few months before the inauguration of the new 18-hole course on October 1, 1933. He lived in the top floor of the Old Clubhouse until he was married to Audrey from London in February 1934. They then lived in the top floor of the Möller's house, Villa Knuten, in Doktorsvägen, Hovås, a short distance from the golf clubhouse. He had a small wooden pro's shop beside the rock on which the old clubhouse stands; this shop was demolished to make way for the new clubhouse built in 1937/38.
Frank established a new course record at Hovås and then broke his own record several times until he scored a 62 playing with Finn Sörvik, Knut Sörvik and Erik Runfelt on July 4, 1939. He later referred to this as "the best round of his life"; the course had been set up with specially created back tees for the Swedish Championship starting the following day.
While at GGK, he designed four golf holes at Hook, about 20 miles (32 km) south of Jönköping. An old mansion house, Hooks Herrgård, had been converted into a hotel and after a guest had created three primitive golf holes, a member of the hotel staff, Rudolf Isoz, initiated improvements in the golf facilities. With financial support from the Swedish Match Factory (Svenska Tändsticksaktiebolaget, STAB) at Jönköping, Isoz invited Frank to design four holes beside the lake. They were built in the autumn of 1934; two years later two more holes were added, perhaps also designed by Frank. In July 1941, six men and three women formed Hooks Golfklubb. The Herrgård is still a hotel more than 80 years later, and the six golf holes for the recreation of guests have become a club with an impressive 36-hole facility in a beautiful setting. The original 1st and 2nd holes, now the par 4 11th and the par 3 12th holes on the Park Course, are essentially unchanged today; the 11th green has not been altered at all, while the 12th green has been re-laid on the same site.
Subsequently, no doubt as a result of contacts made at Hook and Jönköping, Frank was asked to design a 9-hole course at Kettilstorp for Jönköping-Huskvarna Golfklubb, and Nils Claesson, a young greenkeeper from Hovås, supervised the construction and stayed on as greenkeeper. All nine greens that Frank designed are still in play; the original 1st, 2nd, 7th, 8th and 9th are now the 1st, 4th, 9th, 10th and 18th respectively, while the 3rd, 4th, 5th and 6th greens are now played to from different tee positions to form the present 3rd, 6th, 7th and 8th respectively. At the official opening in October 1937, a demonstration match was held in which Frank Dyer and Sven Dahlbäck (Jönköping) played Erik Runfelt (Halmstad) and Karl Erik Wahlström (assistant to Frank at Hovås and son of Axel and Astrid Wahlström, greenkeeper and steward at Hovås). Afterwards, Frank and Erik Runfelt played a singles match in which Frank scored 65 for 18 holes.
Frank Dyer played regular matches – sometimes 36 holes, playing stymies – against Ted Roberts, professional at Stockholms Golfklubb and Douglas Brasier at Båstad Golfklubb (in 1942 Brasier became professional at Hovås, succeeding Karl Erik Wahlström who replaced Frank.) After being second, second, and third in 1933, 1934, and 1935 respectively, Frank won the Dunlop Cup (the Scandinavian Professional Championship) in 1936 in Hovås, and in 1937 in Oslo with 281 (this was quoted in a newspaper as a world record for 72 holes, while admitting that the course was 700 yds too short to qualify); Brasier and Roberts were second and third. He won it again in 1938 in Hovås, with 286, and, according to Oslo Golf Club and the book "The History of Professional Golf in Sweden", once more in 1939 in Oslo, although some records credit Ted Roberts with this win.
Thanks to help from Adolf Svensson, Chairman of Göteborgs Golf Klubb, Frank was able to travel further for tournaments, and in 1936 he was 7th in the German Open at Wannsee. In 1938 he was fourth at Frankfurt and in 1939 he was third at Bad Ems behind Henry Cotton who won it for the third time in succession. The journey home to Hovås was difficult because it was only ten days before war was declared and tension was building in Germany as elsewhere. Henry Cotton gave Frank a lift to Frankfurt in his car, from where Frank flew home, via a change of plane at Amsterdam. Because of exchange control by the Germans, £70 of the prize money had to be left behind but, surprisingly, it was sent on two months after the war started. Also in 1939, Frank had his best performance in the Belgian Open, played that year at the Royal Golf Club of Belgium at Ravenstein, near Brussels. He finished third with 293, two stokes behind Flory van Donck and one shot behind Max Faulkner (winner of The Open in 1951), despite starting the last round with a 7.
In 1938, after five years as club professional working closely with the green-keeper, as teacher bringing on many young players, and as successful tournament player, Frank was thinking of applying for a professional post back in the UK, both for the sake of his family and for easier access to the major British tournaments, including The Open. Henry Cotton wrote a reference for him. In 1939, aged 31, Frank was probably playing the best golf of his career with the prospect of several years of even better golf before him. However, before he had obtained a new post, war broke out and after much deliberation he decided to take his wife and son back to the UK and to enlist in the British Army. The family left Hovås on March 3, 1940, seven years to the day after Frank arrived and six months after the war started; they caught one of the last scheduled passenger flights from Scandinavia.
Frank was in the British Army for nearly six years. Because of his fluency in Swedish, he was initially scheduled to join the campaign in Norway but when the army was defeated there, he went instead to Iceland for two years. He was later in Germany for a year before being de-mobilised in January 1946. War service had taken its toll physically and, with a wife and two sons to support, he decided not to return, aged 38, to an uncertain future in professional golf. He sought a salaried career in a service of benefit to society. After a period of unemployment during which he gained experience in the government's Probation Service he became a civil servant for the rest of his working life in the National Savings Movement which raised funds for the Government while providing the populace with an opportunity for regular and safe investment of small sums of money. While still unemployed, he attempted to get re-instatement as an amateur golfer. The application was initially rejected by the R&A on the grounds that he had been a professional for more than five years. Although war service had cut short his career as it approached its peak and left him unable to continue as golf professional, the R&A were unwilling to make an exception.
However, they eventually relaxed their rules and re-instated him on October 21, 1949. After nearly ten years without playing golf, then followed a successful amateur career in club and county golf during which he played for first Surrey County and then Northumberland County, and established at least three amateur course records. Because of moves necessitated by his work he belonged to three clubs over a period of more than 30 years of amateur golf and in each club he took great interest in course design and maintenance, a legacy of his time as a club professional. In September 1976 he played round his then home course of Croham Hurst Golf Club, Surrey (par 70) in a score equal to his age, 68. His handicap, at one time +1, was still 6 in the year before he died aged 75 of cancer.
© Adrian Dyer 2017